This is a special bonus episode of A Time to Thrill! I'm so excited that Abused is out! This is the tenth title in the Casey Cort series and it's the best Casey Cort book I've ever written. Casey is out in uncharted territory. Not only is she facing her first murder case, but she's pregnant and as of right now…the father is unknown. This explosive series finale is available wherever you get your ebooks!
⭐️⭐️⭐️⭐️⭐️  "Intense, captivating, satisfying!" -Judith Collins
⭐️⭐️⭐️⭐️⭐️  "Excellent writing, thrilling revelations and the mother of all twists at the end!" -S. McKenna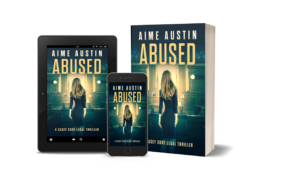 Amazon: http://ebooks.buzz/abusedamz
Kobo: http://ebooks.buzz/abusedkobo
Nook: http://ebooks.buzz/abusednook
Apple: http://ebooks.buzz/abusedappl
Check out my special Q&A where I spill all. the. tea. Next up on the podcast I'll be featuring USA Today bestselling authors Jenny Gardiner and Brenna Aubrey. I can't wait for you to hear my conversations with these amazing women authors.